Imsu News
IMSU FIRST SEMESTER EXAMINATION TIMETABLE FOR 2021/2022
IMSU FIRST SEMESTER EXAMINATION TIMETABLE FOR 2021/2022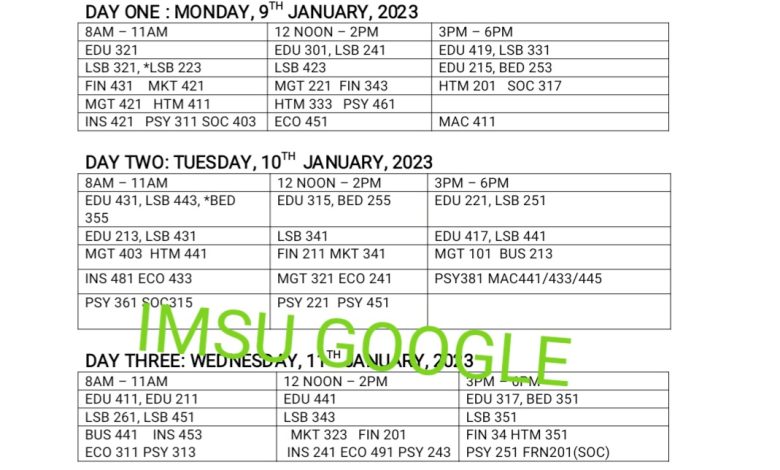 IMSU FIRST SEMESTER EXAMINATION TIMETABLE FOR 2021/2022.
This is to inform all Students of IMO State University that the first semester Examination Timetable for 2021/2022 Academic Session will commence on Friday 6th January 2022, All Students can click on the link below to get the PDF .
All old and returning students (including year ones) of Imo State University are by this notice informed that the university resumes 2021/2022 Session on 26th December 2022, while Revision Ends on Tuesday 3rd January, 2022.
Meanwhile Newly Matriculated students are by notice inform to do there respective Faculty clearance as There Matriculation Number is out. School Fees payments is ongoing as All Students ( 200 level to finals) are informed to pay up against paying late Payment fee of 5300 as an additional fee on the school fees .
Click on the Download button to get the pdf of the Examination Timetable.
For the complete timetable from 100 level to final year All faculties click here
🛅 Generate Invoice, Make Remita & Interswitch Payments without stressing yourself to the Bank At Imsu Google online services and get receipt Immediately without no delay , Also printing of admission letters.
For your swift and fast registration dm or contact us @ⒾⓂⓈⓊ ⒼⓄⓄⒼⓁⒺ Ⓞⓝⓛⓘⓝⓔ ⓢⓔⓡⓥⓘⓒⓔⓢ.
IMSU GOOGLE ONLINE SERVICES.
Make payment ease, stress free and Help in bursary signing .
OUR LOCATION: IMSU SHOPPING PLAZA ALONG IMSU FRONT GATE CALL FOR DIRECTIONS.
DM on WhatsApp here.
https://wa.me/2348104502529
Tell: 📞08104502529
Stay Tuned !!!✅
For any pertaining issues.
Am chris obasi
AKA
©️IMSU GOOGLE
17th, Republic Imsu S.U.G
in House Chairman on Information, The Senate.
.
SHARE TO ALL CONCERNED PERSON