Imsu Admission
Imsu News
School News
STEPS TO TAKE AFTER GETTING ADMISSION IN IMO STATE UNIVERSITY FOR 2022/2023.
STEPS TO TAKE AFTER GETTING ADMISSION IN IMO STATE UNIVERSITY FOR 2022/2023.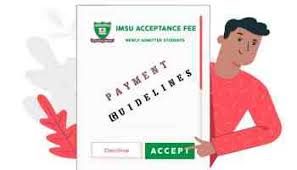 STEPS TO TAKE AFTER GETTING ADMISSION IN IMO STATE UNIVERSITY FOR 2022/2023.
This is to inform all the newly admitted candidates of  Imo State University (IMSU) that the management of the institution has released the procedures of what to do after admission has been offered and accepted in JAMB caps for the 2022/2023 academic session.
1.. Generate Acceptance fee, pay and print recipient through imo state University paydirect platform.
2.. Generate Imsu Pre-Admission Screening test Pay and print receipt.
3.. Generate Imsu Sundry payments ( Matriculation gown, O Level Verification, Sports fee ).
4.. Generate and print admission letters both imsu And Jamb Letter, Also Get your Original jamb Slip.
5.. Check your name on the Matriculation list.
.
Then after The First semester RESUMPTION, Imsu Faculty Screening will commerce which all The payment made online has been signed and confirm from the University Bursary department, The signed receipts And the Required documents needed For The offline screening will needed so as to get A Genuine Matriculation Number.
To those that have gotten admission, these are the documents needed for your Screening/Clearance, Please start gathering them.
*1.Waec result printout (not Original)*
*2.Jamb admission letter*
*3.School admission* *letter*
*4.Jamb original result*
*5.Birth certificate*
*6.1st school leaving certificate.*
*7. LGA identification letter.*
*8.Attestation letter from pastor or priest*, Or From a Civil Servant.
Failure to get the following documents and make the following payments listed above will hinder such candidate from a successful screening and will not be offered matriculation number which signifies that you are a full fledged student of Imo State University, Owerri.
If you need help securing any of these document or for more enquiry contact *me* on call or Whatsapp.
For those who want to pay acceptance fee, Imsu Sundry payments,pre Admission Screening Test and Print admission Letters should kindly DM us or contact us.
*IMSU GOOGLE Online services.*
LOCATION: IMSU PLAZA ALONG IMSU FRONT GATE CALL FOR DIRECTIONS
DM on WhatsApp here.
https://wa.me/2348104502529
Tell: 📞08104502529
Stay Tuned !!!✅
For any pertaining issues.
Am chris obasi
AKA
©️IMSU GOOGLE
17th, Republic Imsu S.U.G
in House Chairman on Information, The Senate.
.
SHARE TO ALL CONCERNED PERSON.