Imsu News
How To Calculate IMSU Aggregate Score FOR 2022/2023 Admission. 
How To Calculate IMSU Aggregate Score FOR 2022/2023 Admission.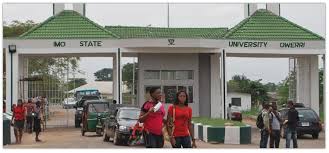 How To Calculate IMSU Aggregate Score FOR 2022/2023 Admission.
To correctly calculate your aggregate, know that the JAMB Examination is made up of 400 marks, whereas the IMSU Post UTME is made 400marks meaning Average score is not total score, the total score determines your admission into Imo State University
It is very easy to calculate IMSU aggregate cut off mark as the university uses a formula similar to that of most universities. IMSU uses a 50:50 system, where your JAMB represents 50% while your post represents the remaining 50% totaling 100%.
Aggregates and qualifications of Securing Admission in Imo
State University, Owerri.
Follow the Example and steps below to Learn How to calculate
your post utme scores
Assuming the result below Where:br /> COURSE APPLIED: Management
CUT OFF MARK: 210
JAMB SCORE: 233
POST UTME SCORE: 221
——-
TOTAL: 454
——-
To Calculate your aggregate score "add up your Jamb + Post
utme score and divide it by 2"
Therefore: The Aggregate score is "223 + 221 / 2 = 227
Divide your JAMB score by 2,
Divide your Post UTME score by  2,
O level results Grade is important for an Effective admission, Both the UTME score and your O'level results' grades are
computed to assess you, Your best 8 subjects are computed; With A1 = 8, B2 =
7, B3 = 6, C4 = 5, C5 = 4, C6 = 3, and so on, Remember no official Department cut off mark for admission.
Then
Add up the result.
This is how to calculate yours
If Treasure scored 240 in her JAMB and 80 in her Post UTME, then her Aggregate score can be gotten by following these steps.
240/8= 30
80/2= 40
40+ 30= 70
Treasure's aggregate score is 70.
Nb: SCORES ABOVE 100 are good 👍
And The 2022/2023l POST-UTME/Direct Entry candidates are by this notice instructed to immediately upload their O'Level results to JAMB PORTAL without further delay as it is a criteria for admission to be considered.
FOR your O level results with us ,
And get free past questions, kindly DM us or contact us😀.
IMSU GOOGLE Online services.
LOCATION: IMSU EXTENSION GATE
DM on WhatsApp here.
https://wa.me/2348104502529
Tell: 📞08104502529
Stay Tuned !!!✅
For any pertaining issues.
Am chris obasi
AKA
©IMSU GOOGLE
17th, Republic Imsu S.U.G
in House Chairman on Information, The Senate.
.
SHARE TO ALL CONCERNED PERSON