Imsu Admission
Imsu News
IMSU POST UTME 2022/2023: REGISTRATION & REQUIREMENTS
IMSU POST UTME 2022/2023: REGISTRATION & REQUIREMENTS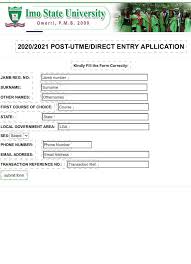 IMSU POST UTME 2022/2023: REGISTRATION & REQUIREMENTS
IMSU POST UTME 2022/2023: REGISTRATION & REQUIREMENTS
The IMSU Post UTME Registration is now fully underway for the next academic year, starting today August 10th 2023.
The brand-new cut-off mark is set at an impressive 160, creating abundant opportunities for all the enthusiastic, aspiring students.
To ensure your journey to admission success goes as smooth as silk, look no further than IMSU GOOGLE.
We are ready to guide you through the registration process. You can reach IMSU GOOGLE ONLINE SERVICES at 07018731901 OR 08104502529.
Here's a convenient checklist of the things you'll need for IMSU Post UTME registration:
1. Surname
2. First Name
3. Other Name (if applicable)
4. Mobile Phone Number
5. Email Address
6. JAMB Registration Number
7. Preferred Course of Study
8. Date of birth
9. Jamb Score
10. Next Of Kin
The Post UTME form is 4,500 Naira only.
Don't forget to save our contact number (08104502529 or 07018731901 ) for detailed assistance and support.
And remember, linking your email to your JAMB account is important to stay informed as the process unfolds.
At IMSU, we're by your side throughout your educational journey, partnering with you to help you reach your academic heights. We sincerely appreciate your consideration of IMSU – together, we will shape the path to your academic greatness! 📚🎓
THANK YOU 🤭