Imsu News
IMSU SUPPLEMENTARY FORM HAS ENDED, THINGS YOU SHOULD KNOW ABOUT IMSU SUPPLEMENTARY
IMSU SUPPLEMENTARY FORM HAS ENDED, THINGS YOU SHOULD KNOW ABOUT IMSU SUPPLEMENTARY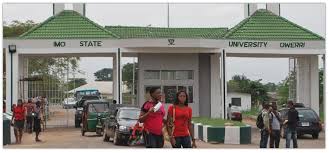 IMSU SUPPLEMENTARY FORM HAS ENDED,
THINGS YOU SHOULD KNOW ABOUT IMSU SUPPLEMENTARY
1. It is another opportunity to gain admission into another course or that of your previous course depending on your jamb score or admission quota.
2. You have a greater chance of gaining admission once your jamb score is 150 and above, Also try and upload your 0 level results to Jamb Portal as it's prerequisite for Admission in Imo State University.
3. Once your jamb subjects combination are perfect for the course you applied for and if you didn't go for those competitive course, you will gain admission, imsu does not have or deal with departmental cut off mark disregard any post about imsu cut off mark as its not real.
4. The supplementary admission lists might not release too early as some of you may have thought but hopefully before 2nd week of January, All you have to do is to exercise patience, keep checking your Jamb caps daily.
5. Getting Supplementary form doesn't mean you won't get your preferred Course in imo state University,  you can get your preferred Course in imsu once your score is okay and you merited it, you can still be given another related course or even still your supplementary course all depends on your scores in post utme and Jamb, other criteria in Admission 0 level results, Quote of students needed in a particular department,  local government consideration on Admission,  state consideration on Admission,  or even national merit admission all play vital roles towards Admission in Imo State University.
I wish you all success and congratulations in advance..
Beware of scamers, nothing like admission officer, to those who wanna print there admission letter or get information on happenings can dm or contact me.
🛅 Generate Invoice, Make Remita & Interswitch Payments without stressing yourself to the Bank At Imsu Google online services and get receipt Immediately without no delay , Also printing of admission letters.
For your swift and fast registration dm or contact us @ⒾⓂⓈⓊ ⒼⓄⓄⒼⓁⒺ Ⓞⓝⓛⓘⓝⓔ ⓢⓔⓡⓥⓘⓒⓔⓢ.
IMSU GOOGLE ONLINE SERVICES.
Make payment ease, stress free and Help in bursary signing .
OUR LOCATION: IMSU SHOPPING PLAZA ALONG IMSU FRONT GATE CALL FOR DIRECTIONS.
DM on WhatsApp here.
https://wa.me/2348104502529
Tell: 📞08104502529
Stay Tuned !!!✅
For any pertaining issues.
Am chris obasi
AKA
©️IMSU GOOGLE
17th, Republic Imsu S.U.G
in House Chairman on Information, The Senate.
.
SHARE TO ALL CONCERNED PERSON