Imsu News
IMSU V.C BANS SELLING OF TEXTBOOKS AND HANDOUTS BY LECTURERS – Sets up a committe for investigation and review
IMSU V.C BANS SELLING OF TEXTBOOKS AND HANDOUTS BY LECTURERS - Sets up a committe for investigation and review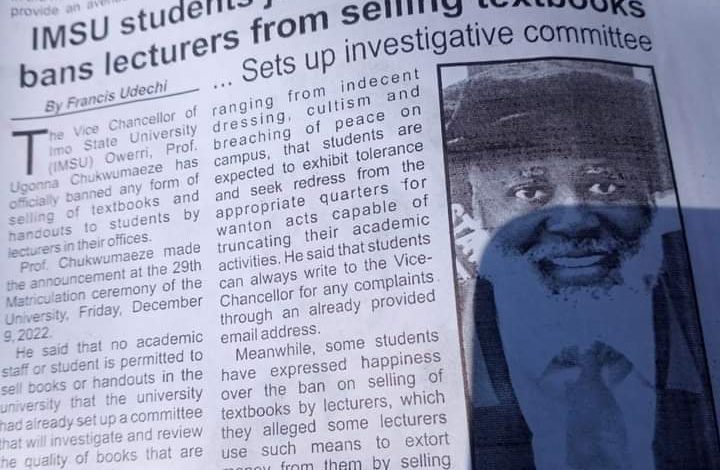 IMSU V.C BANS SELLING OF TEXTBOOKS AND HANDOUTS BY LECTURERS
– Sets up a committe for investigation and review
Prof. Ugonna Chukwumaeze, Vice chancellor of Imo State University Owerri has institute a ban on the sales of textbooks and handouts by the Lecturers of the University.
He made the announcement on the 9th of December 2022, during the university's 29th matriculation ceremony. According to him, "No academic staff or Course Representative is permitted to sell books or handouts in the university; he stated that the university had set up an investigative committee that will review the matter and quality of books sold to students."
Hic et nunc, his administration will not just fight the exorbitant rate of textbooks by lecturers; including: indecent dressing, cultism but ensure peace coexistence in the campus.
Source: Francis Udechi