Imsu News
School News
IMSU Acceptance Fee Payment For 2022/2023 Has Commenced.
IMSU Acceptance Fee Payment For 2022/2023 Has Commenced.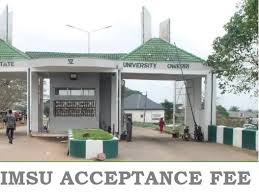 IMSU Acceptance Fee Payment For 2022/2023 Has Commenced.
All successfully admitted candidates in the 2022/2023 Imo State University (IMSU) admissions exercise are expected to pay a non-refundable Acceptance Fee of Seventy thousand naira (₦70,000.00) excluding bank charges and Bank charges shouldn't exceed 2,500 naira.
All Candidates offered provisional admission into the Imo State University (IMSU) for the 2022/2023 academic session are to proceed with the payment of acceptance fee immediately.
Other related payment are
( Pre admission screening test, Matric gown, sports and o level results verification)
☑️Requirements For the Acceptance fee Payment.
::: Jamb Registration number
::: Full name and phone number
::: Department and A valid email.
After payment you are advised to confirm the receipt at the bursary department located opposite the university Senate building.
NB: All Acceptance Fees payment must have an invoice and a receipt which will be confirmed by the Bursary Unit, also Procedures on How to get Imsu admission letter will soon commence stay Tuned.
To those that are far from owerri can contact us for there Acceptance fee Payment, we are 100% Genuine .
For your Acceptance fee Payment kindly DM or contact us.
🛅 Generate Invoice, Make Remita & Interswitch Payments without stressing yourself to the Bank At Imsu Google online services and get receipt Immediately without no delay , Also printing of admission letters.
For your swift and fast registration dm or contact us @ⒾⓂⓈⓊ ⒼⓄⓄⒼⓁⒺ Ⓞⓝⓛⓘⓝⓔ ⓢⓔⓡⓥⓘⓒⓔⓢ.
IMSU GOOGLE ONLINE SERVICES.
Make payment ease, stress free and Help in bursary signing .
OUR LOCATION: IMSU PLAZA SHOP ALONG IMSU FRONT GATE CALL 📞 FOR DIRECTIONS.
DM on WhatsApp here.
https://wa.me/2348104502529
Tell: 📞08104502529
Stay Tuned !!!✅
For any pertaining issues.
Am chris obasi
AKA
©️IMSU GOOGLE
17th, Republic Imsu S.U.G
in House Chairman on Information, The Senate.
.
SHARE TO ALL CONCERNED PERSON.