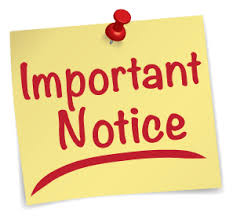 Steps For Faculty Clearance to Avoid Issues.
DEPARTMENTAL AND FACULTY CLEARANCE HAVE STARTED
.
1.  All payments made in imo state University must be signed by the Bursary department ( Acceptance fee, School fees, medical fee, matriculation gown, Sports and Verification),
2. Head to medical clinic along Law faculty close to backgate and get your medical form (contains three files (#500) . Head to Imsu Medical center for your X-ray, Return to medical clinic with your passport  for your blood test,
If you've been cleared at the faculty proceed to pay and secure your medical fee (#7,500)
3. Take the stamped documents, signed receipts and all your original documents for the screening to your faculty officer .
Note: For Faculty of Education you are
expected to pay #1,500 for Esa fee (The Fee might change) (Education Students Association ) at the faculty first before proceeding to your faculty officer, after which #5,500 will be requested of you..
.
Also note that Waec/Neco result verification is compulsory (#2500 per sitting) after you've been cleared for all this, then go back to ya faculty officer with photocopies of your credentials 4 each n get your four files.
STEP BY STEP
list of things to do after getting Imsu Admission.
1.original Jamb result= 2000
2.Jamb Admission Letter=2000
3.Imsu Admission Status=2000
4.Imsu eye clinic _Optometry =1500
5.Imsu Acceptance Fee Payment=70,000
6. Imsu School Fees indegenes = 29,500
7. Imsu school fees non indegenes = 150k to 180k(varies by Departments)
8.Imsu Course Registration = 500.
9. Medical fee 7,500
10. Matriculation fee 2300. Excluding bank charges and processing fee.
              OFFLINE🔰
SCREENING
REQUIREMENTS
The 11 important documents required for imsu offline screening/registration.
1. O'level result verified from the school exams and record
2. Original Jamb result
3. Original Jamb admission letter
4. School admission letter
5. Secondary school testimonial
6. Birth certificate/age declaration
7. Community identification letter
8. Local government identification letter
9. Attestation letter from your king/clergy or a civil servant with grade level 14
10. 5 passport photograph.
11. Money which is about 6000, depending on your faculty.
NOTE: All documents must be in original copy for sighting and photocopies.
Pay your fees and do all payment with me. Imsu Google__08104502529.