Imsu News
IMSU BEST GRADUATING STUDENT BAGS BRITISH COMMONWEALTH SCHOLARSHIP, FLYS TO ENGLAND
IMSU BEST GRADUATING STUDENT BAGS BRITISH COMMONWEALTH SCHOLARSHIP, FLYS TO ENGLAND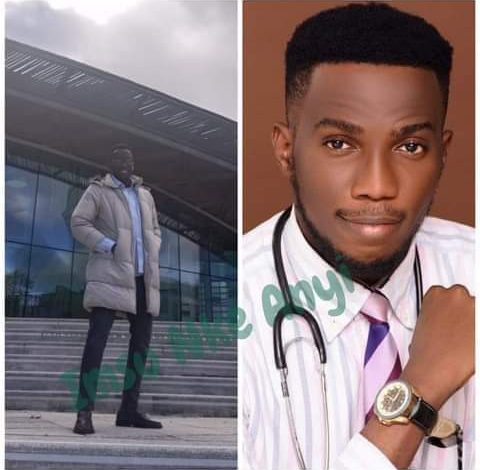 IMSU BEST GRADUATING STUDENT BAGS BRITISH COMMONWEALTH SCHOLARSHIP, FLYS TO ENGLAND
Dr. Joey Chukwujimaka Oleribe (OD, MNOA), Best Graduating Student Department of Optometry, IMSU Class of 2019; bags a commonwealth shared scholarship at University of Exeter, England. The bright doctor in excitement shared this on his Facebook page ealier this evening.
He wrote "Extremely delighted to share that I have been awarded the British Commonwealth Shared Scholarship – regarded as one of the oldest and most prestigious scholarships in the world – to study for a Master's degree at the University of Exeter, England. Being one of the only two candidates selected globally for this scholarship at my University is not just a vote of confidence in my vision for a better world and how I hope to achieve it, but more importantly, a strong reminder that God can be trusted".
"It still feels so unreal. My parents are yet to fully process this; it's totally beyond them. Seeing the teary but proud look on my mum's face as she bade me goodbye reaffirmed for the nth time that there is no failure with God. Yes, hardwork was part of the equation but faith in God was the entire formular".
"At Exeter, I'll be undertaking the transdisciplinary Master's in Cultures & Environments of Health with a research focus at the interface of global blindness, climate change, and health policy. I also look forward to studying the
underpinnings of global eye health inequity through the lens of medical anthropology, in the hopes that I will be empowered by this degree to amplify my work in making the war against avoidable blindness the 'world's fight."
"Immensely grateful to Dr Priscilla Ablordeppey for her kind mentorship throughout the application process, and to my former teachers – Dr Augustine Akujobi, Dr Jacqueline Obioma-Elemba, and Dr Felix Oguamah, for writing glowing recommendations on my behalf. And of course, not forgetting Victor Agboga's and Annet Nakazi's YouTube channels which provided invaluable materials for writing those cumbersome essays."
Never edit your imagination; nothing is impossible!!
From IMSU to England…🇳🇬🇬🇧
Chineke, daalụ!..🙏🏽♥️
Congratulations Dr. Joey!
Credit: Facebook| #ImsuNkeAnyi