Imsu News
School News
IMSU FACULTY CLEARANCE LIST FOR NEW STUDENTS (2022/2023 SESSION).
IMSU FACULTY CLEARANCE LIST FOR NEW STUDENTS (2022/2023 SESSION).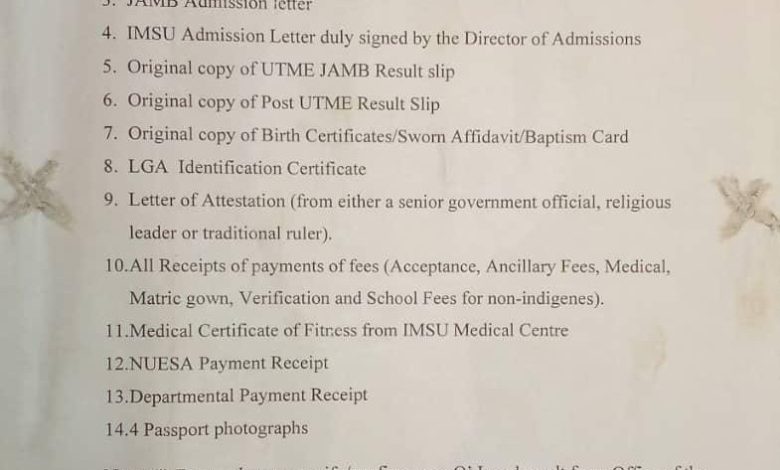 ✅IMSU FACULTY CLEARANCE LIST FOR NEW STUDENTS (2022/2023 SESSION).
Meanwhile Gst Examinations takes off this week, resumption date has not been slated for 2022, Bursary clearance and registration is ongoing for those that made there payments, all payments must be signed and verified by the Imo state university Bursary department and Must have a page Number which will be needed for faculty clearance.
Imsu Admission letter is ready for collection for 2022 newly admitted students or prospective students irrespective of the faculty, 2022 Matriculation number has been sent to all Faculty officers so faculty clearance for 2022 new Fresherman will start soon .
NECESSARY PAYMENTS
▪️Acceptance fee
▪️Ancillary/School fee
▪️Medicals (Pre-admission screening Test)
▪️Matric gown
▪️Sports Fee
▪️O'level verification fee
▪️ Faculty and Departmental Registration Fee (it varies from faculty to faculties
).
For your payments and clearance Contact Imsu Google Online Services( 08104502529) Imsu payments sure plug.
NECESSARY DOCUMENTS.
▪️Post UTME acknowledgement slip.
▪️IMSU admission letter
▪️Acceptance fee receipt
▪️School fee receipt
▪️Sundry payment receipts (Medicals, O'level verification, Matriculation gown and Sports fee)
▪️JAMB Admission letter and admission letters .
▪️JAMB original Result
▪️Attestation letter (from a Priest, Traditional Ruler or Academia)
▪️State of Origin/LGA identification letter
▪️Birth certificate.
If you don't have any of these Documents, Dont bother yourself we are at yourself Dm to get yours.
After A successful Clearance A Matriculation Number will be issued to you From your faculty officer, Rush now to do your clearance and faculty clearance.
WELCOME TO IMSU!! HAPPY RESUMPTION!!
#Imsu_Google
#ImsuNkeAnyi
For your Acceptance fee Payment kindly DM or contact us, we make Genuine payments and we are reliable and fast.
🛅 Generate Invoice, Make Remita & Interswitch Payments without stressing yourself to the Bank At Imsu Google online services and get receipt Immediately without no delay , Also printing of admission letters.
For your swift and fast registration dm or contact us @ⒾⓂⓈⓊ ⒼⓄⓄⒼⓁⒺ Ⓞⓝⓛⓘⓝⓔ ⓢⓔⓡⓥⓘⓒⓔⓢ.
IMSU GOOGLE ONLINE SERVICES.
Make payment ease, stress free and we Help in bursary signing .
OUR LOCATION: SHOP 5 IMSU SHOPPING PLAZA ALONG IMSU FRONT GATE CALL FOR DIRECTIONS.
DM on WhatsApp here.
https://wa.me/2348104502529
Tell: 📞08104502529
Stay Tuned !!!✅
For any pertaining issues.
Am chris obasi
AKA
©️IMSU GOOGLE
17th, Republic Imsu S.U.G
Minister for Information.
.
SHARE TO ALL CONCERNED PERSON.